Madison's Best Pizza Delivery
Ian's Pizza
Coming in first place is Ian's Pizza. With three locations, you're bound to be in their delivery zone.
Need a midnight snack? State Street location is open until 2:00 a.m. every day!
Specializing in the classic thin-crust New York slice, they have what you're looking for at an affordable price.
In case you intend to feed the whole party, Ian's has you covered for that too with 20" party pies starting at $26. Not enough pizza? No problem, Ian's offers catering as well.
3241 Garver Green
11am-9pm, Every day
100 State St.
11am-2:00am, Every day
319 N. Frances St.
Sun-Thurs 11am-10pm
Fri & Sat 11am-2:30am
Glass Nickel Madison West
Located on the 5000 block of University Ave, Glass Nickel is ready for your midmorning pizza cravings opening at 10:30 a.m. With vegan and vegetarian options, Glass Nickel can accommodate everyone's diet. Save money with their exclusive Nickel Dough Rewards program.
5003 University Ave, Madison, WI 53705
608.218.9000
Sun-Thurs
10:30am – 10pm
Fri & Sat
10:30am – 11pm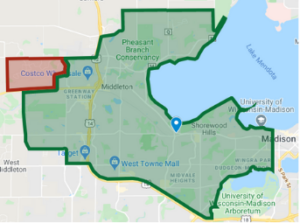 Luigi's Pizza
Luigi's has the strongest COVID-19 protocol in place. Be sure to read over the Customers section of their Safety Precautions tab before attempting to walk-in without a reservation. You can avoid all the fuss and get your food delivered with the largest delivery zone out of every pizza place. Take a look at their map below to see if you are located in their red, orange, or blue delivery zones. Not in their zone? Don't fret, they're known to make exceptions and go the extra mile for deliveries.
515 S. Midvale Blvd. Madison, WI53711
608.661.7663
Hours
Sun-Thurs 3:30PM – 9PM
Fri & Sat 11AM – 9PM
Roman Candle Pizza
Making a name for themselves as craft pizza, Roman Candle's unique pizza will have you experiencing a lovely déjà vu. Whether you're in central or west Madison, this is the spot for you. Taking the kids to the Children Museum? Grab a slice before or after at 100 N Hamilton Street.
1054 Williamson St.
608.258.2000
Sun-Thurs 11am-10pm
Fri & Sat 11am-11pm
1920 Parmenter St.
608.831.7777
Sun-Thurs 11AM-9PM
Fri & Sat 11AM-10PM
Sun-Thurs 11am-10pm
Fri & Sat 11am-11pm
100 N. Hamilton St.
608.287.3975
Tues-Thurs & the last Monday of every month 11am-3pm
Fri – Sun: 10am-5pm
Delivery Zone
Village Pizza
Located amidst UW Madison's campus, Village is great for students in-between classes or activities. Twelve blocks from Camp Randall Stadium, grab some wings and dessert before the Badgers play. Also great if you want to take appetizers or a sandwich to one of many nearby parks for a picnic.
2825 University Ave, Madison, WI 53705